Dr. Grace Lee Boggs (1915-2015) was born in Providence RI above her father's restaurant, her mother, Yin Lan Ng, role modeled what it was to be a feminist. Boggs went to college at Barnard and then received her Ph. D. in philosophy from Bryn Mawr College. She faced discrimination in the work force not just because she was a woman but also because of her Chinese heritage. In the 1940s, she took a low-paying job at the University of Chicago's Philosophy Library. During this time, she began the her life's work of activism, an activist focus on the struggles in the African-American Community.
In 1953, she married James Boggs, a black auto worker and political activist and they furthered their work in Detroit. Together, they tackled labor relations, civil rights, feminism, Black Power, Asian Americans, and the environment. She was active in the Black Power movement alongside Malcolm X and later became devoted to Martin Luther King Jr.'s philosophy of nonviolent resistance.
In 2009, she was inducted into the Michigan Women's Hall of Fame. She is the author of many books with her husband and she died after her 100th birthday. Her autobiography, written in 1998, Living for Change and her re-released "The Next American Revolution: Sustainable Activism for the Twenty-First Century" are still available and of value in today's times. She founded food co-ops, youth groups and wrote columns for the Michigan Citizen where she wrote a weekly column until 2013. She never stopped, in 2012 she gave a lecture at the University of California Berkeley with the activist, Angela Davis.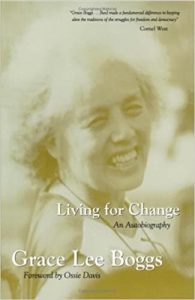 Scholar Karín Aguilar-San Juan describes one aspect of Boggs' activism: "Although she believes that racial and gender inequality will always demand struggle, Grace remains adamant that civil- rights- based activism will not lead to the far-reaching changes in society that a higher state of human evolution requires." She goes on to explain that Boggs' "political path" has been "guided by her study of global and historical change, hand- in- hand with daily participation in and observation of the struggles of people at the grassroots level." –Frontiers Journal 2015.
https://en.wikipedia.org/wiki/Grace_Lee_Boggs
https://www.npr.org/sections/codeswitch/2015/06/27/417175523/grace-lee-boggs-activist-and-american-revolutionary-turns-100