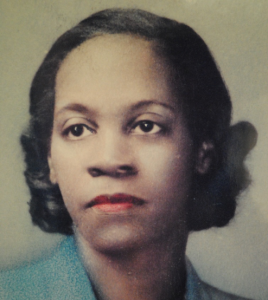 Sometimes, the term, a life well lived may mean that a person went through life, doing what she loved, making a difference in countless lives and left us little in her personal life, pictures or those intimate stories that intrigue us all.  I would like to think that some of the movies I saw in college classes may have been influenced by Dr. Marie Clark Taylor. 
Marie Clark was born in Sharpsburg, Pennsylvania in1911, graduated from Dunbar High School in Washington DC in 1929, and she went to Howard University earning both a BS and MS in Botany. In 1941, she achieved a Ph. D at Fordham University and was the first woman of any race to earn a science doctorate at Fordham. She taught high school and was instrumental in introducing students to the study of plant cells. During World War II she served in the Army Red Cross in New Guinea.
In 1945 she joined the botany department at Howard University then in 1947, she became Chair of the Botany Department until she retired in 1976. She married Richard Taylor whom she met in New Guinea and they had one son in 1950.
During her tenure, the department grew, and she was instrumental in the design and construction of a new biology building on the Howard University campus, the botanical greenhouse laboratory on the rooftop of the Ernest E. Just Hall Biology Building.
Marie was a huge proponent of using plants in classrooms since they were affordable and widely available, compared to animal specimens. She organized a series of instructional workshops for high school teachers to learn about using plant materials to teach their students. With assistance from the National Science Foundation, Marie helped put together 16mm instructional films that teachers could use, ranging from plant growth time-lapse videos to biographies on researchers such as Louie Pasteur.
During the mid-1960s, she was specifically requested by President Lyndon B. Johnson to expand her work nationally and overseas, bringing her teaching style to an international level.
Taylor died on December 28, 1990 at Walter Reed Army Medical Center in Washington, D.C. Taylor was a "powerhouse who worked tirelessly to improve teacher training in the sciences," according to her former colleague and civil rights activist Margaret Strickland Collins.